Dining Services Online Menu
MyPlate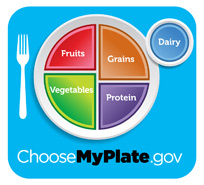 Take a look at ChooseMyPlate.gov
The USDA has created a website to help people learn about healthy eating. MyPlate is created from the Dietary Guidelines for Americans, 2010. These science-based guidelines provide advice about making the best food choices for optimal health. At ChooseMyPlate.gov, you can read these guidelines and use the Personalized Plan section to create your own daily food plan.
Make half your grains whole
Eat at least 3 oz. of whole-grain cereals, breads, crackers, rice, or pasta every day.
1 oz. is about 1 slice of bread, about 1 cup of breakfast cereal, or 1/2 cup of cooked rice, cereal, or pasta.
Eat 6 oz. every day
Vary your veggies
Eat more dark-green veggies like broccoli, spinach, and other dark leafy greens.
Eat more orange vegetables like carrots and sweet potatoes.
Eat more dry beans and peas like pinto beans, kidney beans, and lentils.
Eat 2½ cups every day.
Focus on fruits
Eat a variety of fruit
Choose fresh, frozen, canned, or dried fruit.
Go easy on fruit juices.
Eat 2 cups every day.
Get your calcium-rich foods
Go low-fat or fat-free when you choose milk, yogurt, and other milk products.
If you don't or can't consume milk, choose lactose-free products or other calcium sources such as fortified foods and beverages.
Get 3 cups every day; for kids aged 2 to 8, it's 2
Go lean with protein
Choose low-fat or lean meats and poultry.
Bake it, broil it, or grill it.
Vary your protein routine – choose more fish, beans, peas, nuts, and seeds.
Eat 5½ oz. every day.
Dining Locations Map
Nutrition Tips
Did you know that people who eat breakfast have increased strength, endurance, concentration, and problem solving abilities? Grab a piece of fruit, whole wheat toast, cereal bar, or 100% fruit-juice before heading to class to increase your performance throughout the day.